Often when you're searching on Google for a person or organization name, or other broad topic, you'll find a block of search results labeled "In-depth articles." These results provide high-quality content to help you learn about or explore a subject. While the feature is based on algorithmic signals, there are steps you can take as a webmaster to help Google find your high-quality, in-depth content and best present it to users in the search results page.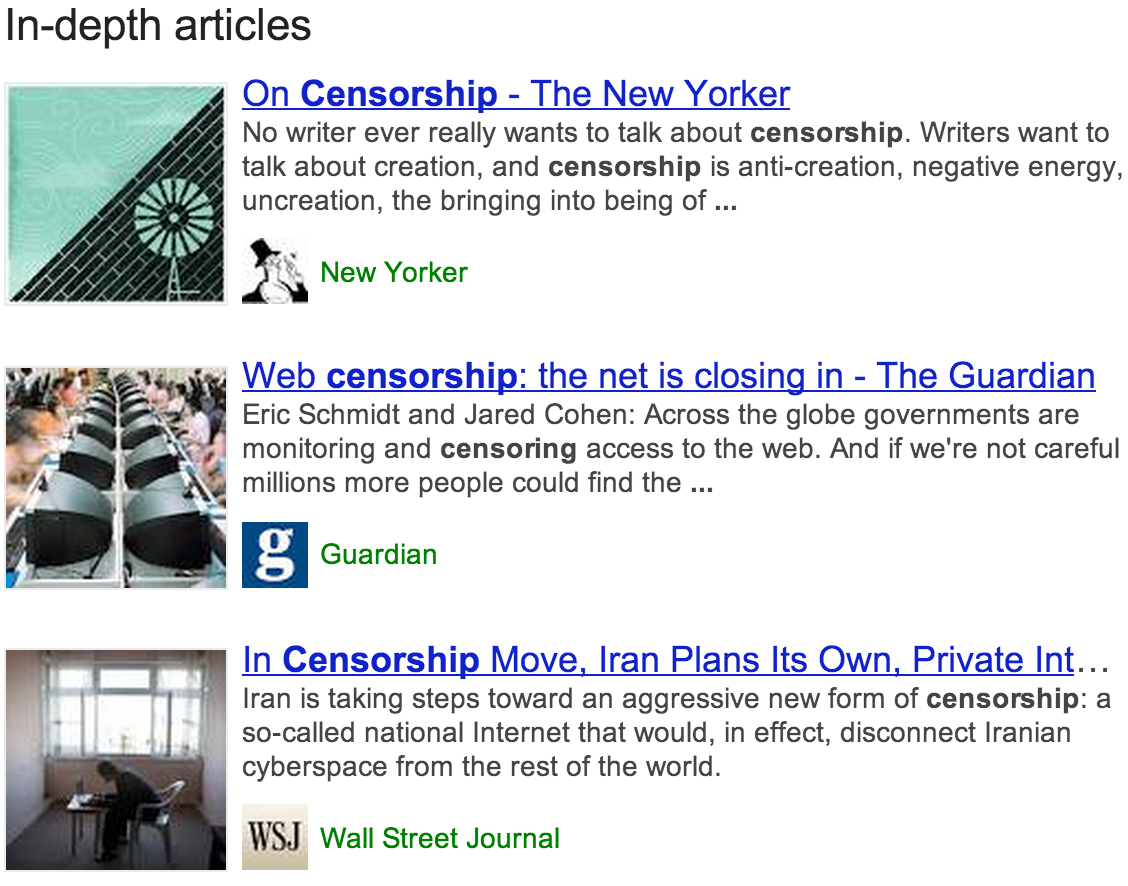 Optimize your site for the "In-depth articles" feature
Schema.org Article markup
In general, we'll do our best to understand the metadata you provide for your pages to better present search results to users. For this feature, it's particularly helpful if you can implement certain aspects of the
schema.org Article markup
, notably the following attributes:
headline
alternativeHeadline
image (note: the image must be crawlable and indexable)
description
datePublished
articleBody
Authorship markup
Authorship markup helps our algorithms to find and present relevant authors and experts in Google search results. Learn more about
authorship
.
Pagination and canonicalization
For multi-part content, proper pagination markup using rel=next and rel=prev can help our algorithms correctly identify the extent of those articles. In addition, it's important that canonicalization is done correctly, with a rel=canonical pointing at either each individual page, or a "view-all" page (and not to page 1 of a multi-part series). Learn more about
pagination
and
canonicalization
.
Logos
A logo is a great way help users recognize the source of an article with a quick glance. As a webmaster, there are two ways you can give Google a hint about which logo to use for your website:
Create a Google+ Page and link it to your website. Choose an official logo or icon as the default image.
Use organization markup to specify your logo.
Note that it may take some time for logo changes to be reflected in search results.
Restricted Content & First Click Free
If you offer subscription-based access to your website content, or if users must register for access, then search engines may not be able to access some of your site's most relevant content. If Google can't properly crawl and index your content (including text, images and videos), we can't show it in our search results (including the "In-depth articles" feature). Implementing First Click Free is one easy way to make sure your content is accessible to Google's search crawlers so it can be displayed in Google search results. Learn more about
First Click Free
.
WordPress In-Depth Article Generator
If you are using WordPress for your Blog, there is a plugin that you can install to
Generate posts metadata for your pages to better present search results to users. Download it from Here!